Founded in 1954 under the leadership of Bill Adams, The Town joined McGill and Westmount (and the Barbs in 1955) to form a Montreal league. A year later, a group left the Town to form a fifth team, the Montreal Irish. As more Canadians began to play the game, the far sighted Geoff Lippman spearheaded the acquisition of "Scobie Hall", the clubhouse that we rented since 1971 and now own outright, to insure that all newcomers were initiated into all the finer points of the game.
In the summer of 1975, the wives and girlfriends of the Montreal Irish RFC challenged the men to a fun game of rugby. Understandably, the men were enticed, as the traditional men's sport was had not been attempted by many women and they felt an ego boost approaching. Much to their surprise, the ladies showed substantial athletic prowess for the game. Because they displayed skill and a desire to learn, a few of the men decided to coach them, and theyentered the Mad River Tournament, surprising many with the ability for the game. The team decided to take the sport seriously and although they lost a few wives, hardcore recruiting resulted in a strong club, who became the team to beat! Most of the games in the early yearswere road trips to the States, as no other Canadian Clubs existed within travel distance. It is rumoured this team is the first organized women's club in Canada!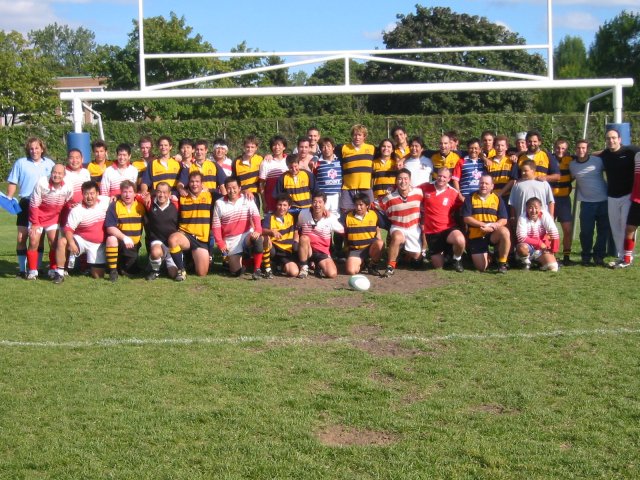 In the late 1970's, the Irish ladies began to feel ostracized by some of the British contingent of the men Irish who felt women were infringing on one of the last bastions of male sports. One of the Irish gals, married to the President of another Montreal-based club, spearheaded the move of the Montreal Irish Women's Rugby Team to the Town of Mount Royal RFC in 1981.
By this time, the team has recruited and travelled, but most especially, perfected, the sport of rugby union football. Although there were always social ruggers associated with the team/club, a serious competitive core group continued and the team went on to win several prestigious tournaments and become well respected as capable pioneers of women's rugby in Quebec and Canada.
TMR celebrated it's 60th year in 2015, with a celebratory weekend in September. Bring townies young and old together again in the renovated clubhouse, Scobie Hall.
The Town has always supported rugby at many levels locally, provincially and nationally with many club members proudly wearing blue for Quebec or Red for Canada on representative duty. In 2016 we were extremely proud to see our very own Bianca Farrella as a part of the Canadian Womens Sevens squad at the Rio de Janeiro Summer Olympiad as they came away with a Bronze Medal.